Protectowire Confirmed Temperature Initiation (CTI)
CTI is a new Digital Linear Heat Detection technology created and patented by The Protectowire Company. This technology is an enhancement to traditional digital linear heat detection technology and enables short circuit discrimination. It works by confirming thermal activation of the Digital Linear Heat Detector before an alarm is initiated, thereby reducing the incidence of false alarms created by physical damage to the detector. Protectowire CTI Digital Linear Heat Detectors are the only digital linear heat detectors to feature Short Circuit Discrimination and are available in a wide range of operating temperatures.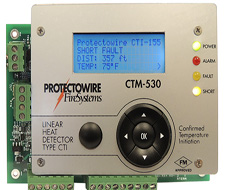 Features
• Digital operation with short circuit discrimination capable of distinguishing between short circuit and alarm conditions.
• Two distinct heat sensing technologies.
• Confirmed temperature initiation for highest immunity to nuisance alarms.
• Compatible with Protectowire Alarm Point Location Meter.
• Approved for hazardous locations.
• Available in five alarm temperatures to accommodate the widest range of applications.
Video:
http://www.protectowire.com/cti-intro-video/
CTI Series Linear Heat Detectors Datasheet:
http://www.protectowire.com/product-pages/confirmed-temperature-initiation-cti/